Pre-Season jumpers have been a thing since they first were worn in the 1995 Ansett Cup and while there's been plenty of shockers, but some have actually been good.
With the AFL Pre-season series getting underway for one weekend only, we're going down the catwalk of Footy fashion and have put together our list of the best and worst jumpers that have featured over the years.
Here's what we have judged the best and worst.
It's called fashion, look it up.
BEST
Brisbane Lions Queensland Jumper
Worn for the NAB Cup after the Brisbane floods in 2011, this ripping guernsey oozes state pride.
Fitzroy Ansett Cup 1995-96 
In their last two seasons before merging with the Brisbane Bears, Fitzroy's chevron with Lion number as modelled by Jarrod Molly was a beauty.
North Melbourne's Bouncing Roo 
Many a Kangas fan loves this jumper. Worn originally in the 1995 Ansett Cup (which they won), it became the clubs away jumper from 1996 – 2002 (inc. two premiership years) and was brought back in season 2019.
The St Kilda Hot Cross Bun 
Another beauty, the jumper worn when St Kilda triumphed over Carlton in the 1996 Ansett Cup Grand Final to absolute scenes.
Would become their "home game" jumper from 1997 – 2001 and was worn in the 1997 Grand Final and brought back as a special one-off design for Nick Riewoldt's 300th game in 2017 and is currently a training jumper for the Saints.
While the traditional Saints jumper is a beauty, there's no denying the hot cross bun/tombstone/crest jumper remains a favourite with the St Kilda faithful.
St Kilda's Stick Man 
A controversial call on our end, but the Saints putting their iconic stick man logo on a jumper for the 2014 NAB Challenge is a tick from us. Anyone who is beyond a size XL shouldn't wear one, but we're big fans of it.
The Demon Ansett Cup Jumper
As modelled by Stephen Tingay, this number was worn by the Dees for the 1996 and 1997 Ansett Cup. Melbourne even wore a replica of it in Round 17 last season against GWS.
The Richmond Claw Jumper 
The Tigers have had a number of different offerings for the pre-season in recent years but the Richmond claw worn from 1998 – 2003 is in the good category.
Hawthorn's somewhat decent Ansett Cup number circa 1997-99
This one as modeled by Daniel Harford after the Hawks beat Port Adelaide in the 1999 Ansett Cup Grand Final is actually not bad. The Hawks have had some shockers, but we'll pay this one.
WORST 
These do not need any explanation, nor a history lesson.
Just a whole lot of "WHAT WERE THEY THINKING?" and those thoughts that if the club re-released them as part of a heritage range that you would go out and purchase one.
The GOAT of all-time worst jumpers, the 1995 Hawthorn jockey silks 
Not to be outdone, the Hawks T-shirt number circa 2000-01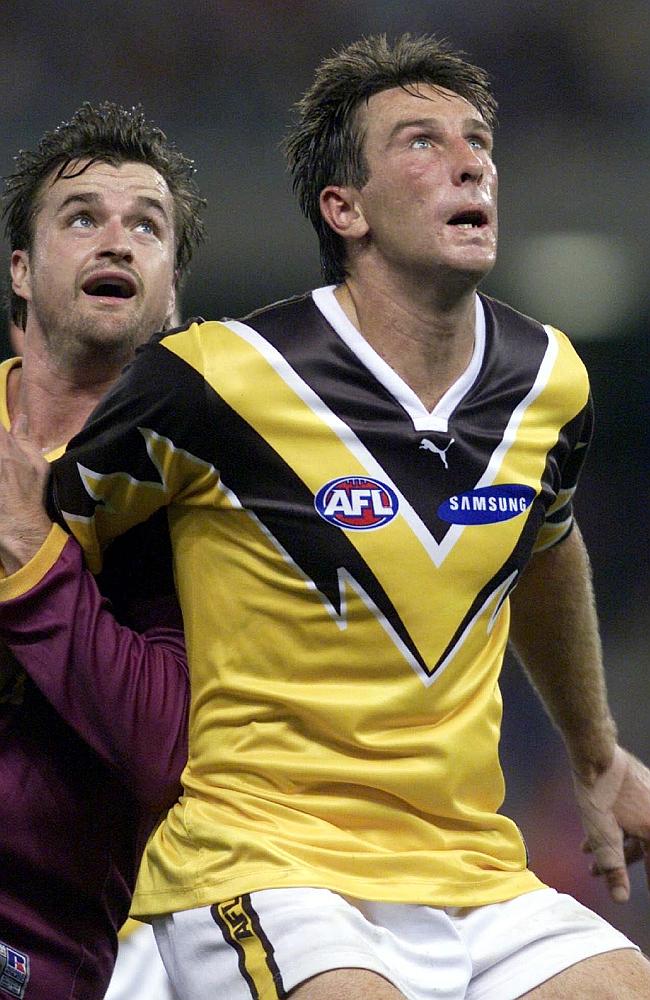 In recent years, the Cats have gone ALL IN on the T-Shirt 
West Coast Orange Sun 2000 – 2002. 
Never forgive, never forget.
Collingwood's barcode/cartoon Magpie
The next time a Magpie official lectures the AFL world about how sacred their jumper is, remind them of this number worn for the 1996 & 1997 Ansett Cup.
How to ruin a perfectly good football jumper:

EXHIBIT A – Sydney Swans 1997 – 98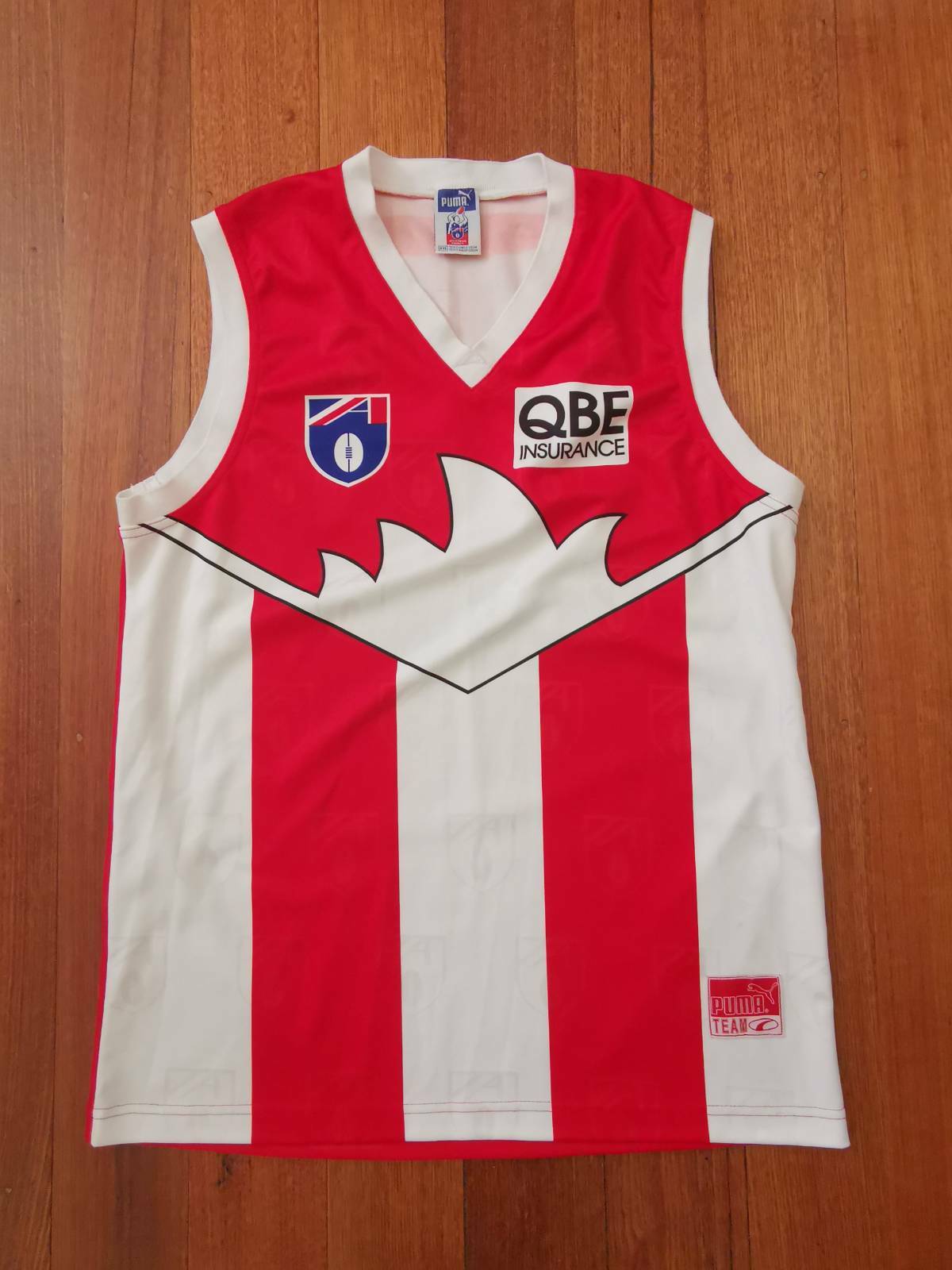 EXHIBIT B – Carlton 1998 
Wow-we what on earth were the Western Bulldogs thinking with this one?

Port Adelaide can bring back the bars, on one condition, they have to bring back this little number as well.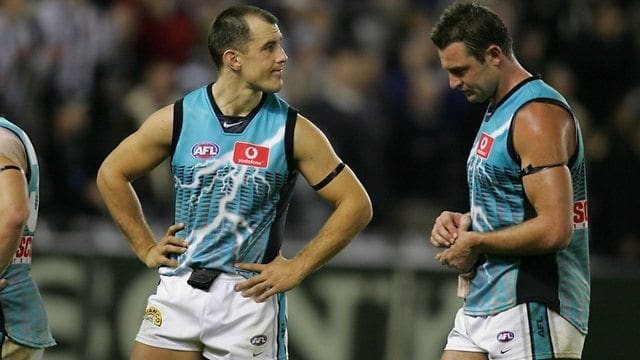 The Crows Ansett Cup Number had a lot going on. 
Oh we're from Tiger … YELLOW (SILVER) and BLACK!