NFL circles are abuzz with people frantically putting together their last minute mock drafts ahead of Friday morning's first round.
For some it will be an overanalysed 147th edition since December, for others it will be the result of throwing darts at a moving target to see who will go where.
The Neds team has gone over the stats, watched the college game footage and come up with the ONLY NFL mock draft you need.
1 – Jacksonville Jaguars
PICK: A Future Backup QB for the LA Rams
How can you screw up a sure thing with the first overall pick?
Allow us to introduce you to the Jaguars.
the Jaguars have picked in the top 10

EVERY YEAR since 2008 but one…

and these were their starting QBs

Mike Glennon
Jake Luton
Gardner Minshew
Nick Foles
Cody Kessler
Blake Bortles
Chad Henne
Blaine Gabbert
Luke McCown
Trent Edwards
Todd Bouman
David Garrard

mind boggling

— Warren Sharp (@SharpFootball) April 27, 2021
2 – New York Jets
PICK: Who cares, they'll ruin the poor kid's career
The poor kid is going to get booed before he can put the Jets cap on his head.
Jets fans will travel anywhere to boo their draft picks: https://t.co/YEKgoQOfUr pic.twitter.com/b7cCp8ifTp

— SB Nation (@SBNation) April 30, 2016
3 – San Francisco 49ers
PICK: A QB who will hopefully not get assassinated by Kyle Shanahan
"Let's get rid of the guy who took us to the Super Bowl less than 18 months ago for a kid just out of college, what could go wrong?" – Kyle Shannahan (I assume).
Seriously, is the guy planning on murdering someone this weekend?
Kyle Shanahan was asked if Jimmy Garoppolo would be on the 49ers' roster on Sunday.

His answer 😳 pic.twitter.com/57IZHI0arw

— SportsCenter (@SportsCenter) April 26, 2021
4 – Atlanta Falcons
PICK: Hopefully someone who can teach them how to hold on to a lead
Yeah, I know, it was a cheap shot, but the Falcons lost a lot of games last year, hence why they are picking here.
5 – Cincinnati Bengals
PICK: Someone who will be asking for a trade to an actual NFL team in 3 years
Notoriously cheap Bengals owner Mike Brown is going to suck the love of the game right out of this selection.
6 – Miami Dolphins
PICK: A player who will REALLY enjoy Miami's nightlife
With things returning to normal, this selection is going to be in for a real treat, getting to go to Miami and spend their early 20's on the glitter strip.
Enjoy every moment. Enjoy today. 😌 #WednesdayWisdom

📸: drone.trooper via Instagram pic.twitter.com/CGnW97U4xt

— City of Miami (@CityofMiami) April 14, 2021
7 – Detroit Lions
PICK: A future free agent that will have more coaches than teammates in 3 years
Some say that Detroit is where NFL careers go to die and looking at the fortunes of the franchise, it's kind of hard to argue otherwise.
8 – Carolina Panthers
PICK: Unreasonable expectations
Panthers owner David Tepper is not interested in a gradual rebuild, we're pretty sure he's targeting a Super Bowl this year…
9 – Denver Broncos
PICK: Peyton Manning
He's the only good QB that John Elway has been able to bring to Denver so why not try him out again?
10 – Dallas Cowboys
PICK: Jerry Jones's Grandchild
It's all in the family for the owner right?
11 – New York Giants
PICK: A guy just relieved he didn't go to the Jets
If you had to go play for the New York teams (who actually play out of New Jersey), there's only one good option.
The #⃣1⃣ New York sports moment of the decade.

The New York Giants win Super Bowl XLVI 🏆

— Ralph Vacchiano (@RVacchianoSNY) January 1, 2020
12 – Philadelphia Eagles
PICK: Someone who wishes it was 2017
Remember when the Eagles won the Super Bowl?
13 – LA Chargers
PICK: A lawyer to help them get out of LA
It seemed like a blessing in disguise, the Chargers getting out of their rundown stadium in San Diego and moving into the Rams palace in LA.
Sadly no one in Los Angeles has seemed to notice.
14 – Minnesota Vikings
PICK: Anyone to help on defence
Just find someone who can make a tackle!
15 – New England Patriots
PICK: Someone nobody has ever heard of
Bill Belichick has made a habit of going outside the box for his draft selections, so with his team in desperate need of a quarterback this season, what will he do?
Probably take a special teams player out of North Idaho State Community College or something like that.
And Mel Kiper will love it!
16 – Arizona Cardinals
PICK: Nobody more photogenic than head coach Kliff Kingsbury
The Arizona Cardinals head coach might be chasing his first playoff berth in the NFL, but it won't be with a guy who can get more Instagram likes than him.
In October 2018, Kliff Kingsbury said he would take Kyler Murray as the first pick of the NFL draft if he could.

There's a San Francisco Chronicle report that he's expected to declare and Kingsbury's @AZCardinals are first on the clock 👀 pic.twitter.com/ERF1lFz5qg

— ESPN (@espn) January 10, 2019
Maybe he'll let the rookie stay with him in his palace though.
It's time to hand out 2020 NFL Draft grades for the NFC West. But first, how about an inside look at Kliff Kingsbury's house…. https://t.co/4fV6FvlHpm pic.twitter.com/B0FU2I5Y7s

— Vendetta Media (@media_vendetta) April 26, 2020
17 – Las Vegas Raiders
PICK: Whoever was the least squeamish during pre-Draft meetings with Jon Gruden
The real life Chuckie doll lookalike can be a little intense from time to time.
Not to mention he did some weird things during his TV career with rookie QB's.
Watch ESPN's Jon Gruden beat potential #Eagles QB Carson Wentz with a pool noodle https://t.co/VjGfWEuhyi pic.twitter.com/2JoiTtPEI8

— The Philadelphia Inquirer (@PhillyInquirer) April 21, 2016
18 – Miami Dolphins
PICK: Same as Pick 6
Seriously, living in Miami most of the year as a professional athlete, jackpot!
19 – Washington Football Team
PICK: A new PR firm
Between trying to rename the team and the scandals around the front office, Washington could use a total rebrand.
20 – Chicago Bears
PICK: Anyone to make the fans forget about Trubisky
Remember when the Bears decided he was a better option than Patrick Mahomes?
21 – Indianapolis Colts
PICK: Someone who can party with Jim Irsay
The Colts owner is a bit of a loose unit after inheriting the team from his Dad.
He definitely had the over in this game though.
Jim Irsay needs that alternate team total over next week, guysssss pic.twitter.com/OQiOKoULmL

— Big Cat (@BarstoolBigCat) January 6, 2019
I can only imagine that whoever they do draft will need to know how to rock out when asked to.
I'm 99% sure Jim Irsay is related to Joe Exotic. Long lost cousin 🤣 pic.twitter.com/CFXTjRfIc7

— Adam Lefkoe (@AdamLefkoe) March 27, 2020
22 – Tennessee Titans
PICK: Someone to handle warm ups
Does this sort of stuff really fall under the purview of the head coach in Tennessee?
Mike Vrabel: The ultimate player's coach 👏

(via @thecheckdown) pic.twitter.com/Jye7mtZSOQ

— NFL on ESPN (@ESPNNFL) January 19, 2020
23 – New York Jets
PICK: Someone who wishes they went to Seattle
The Seahawks sent this pick in exchange for Jamaal Adams and the draft pick will be left to wonder "what it" for their whole career.
24 – Pittsburgh Steelers
PICK: A Social Media Manager for JuJu Smith-Schuster
Full time Tik-Tok personality and occasional NFL receiver JuJu Smith-Schuster made headlines for his non-stop posting and social media inspired dance celebrations.
It did also put a target on his back on the field though.
He's back at it again… 👀🕺

JuJu Smith-Schuster does his dance on the @Bengals' midfield logo during warmups.

🎥: TikTok/JuJu pic.twitter.com/FEcpRGAmLq

— Sportsnet (@Sportsnet) December 22, 2020
Wonder if JuJu Smith-Schuster will finally rethink doing pregame TikTok dances on opposing team's logos after this? #PITvsCIN pic.twitter.com/82JOLWquf6

— Bobby Trosset (@BobbyWBAL) December 22, 2020
25 – Jacksonville Jaguars
PICK: A guy who wishes the Rams kept this pick
Sean McVay really hates picking in the first round, so he'll just let everyone else have a go.
26 – Cleveland Browns
PICK: Vontae Mack
Vontae Mack no matter what.

27 – Baltimore Ravens
PICK: An anger management therapist
It can't be good for John Harbaugh to go through life that tense.

28 – New Orleans Saints
PICK: Whoever is the cheapest option
The Saints credit card approach to the salary has come back to bite them this offseason.
29 – Green Bay Packers
PICK: Someone to keep Aaron Rodgers happy
Shots were fired with last year's selection of Jordan Love in the first round.
They may want to try and placate Aaron Rodgers a bit with this selection.
30 – Buffalo Bills
PICK: A lifetime supply of breakable tables
Fans will be back in the NFL's stadiums this season, so you know the Bills fans are going to go off in Week 1.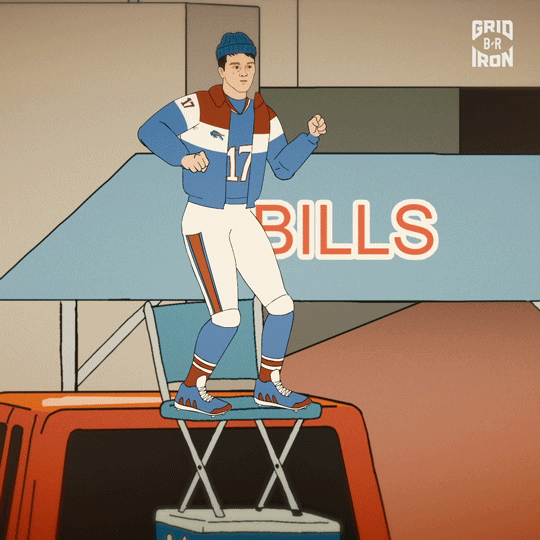 31 – Baltimore Ravens
PICK: A last minute panicked selection
Hey they only got this pick a week ago, can you blame them?
32 – Tampa Bay Buccaneers
PICK: A rookie Tom Brady will hate by the end of May
In his 21 seasons in the NFL, how many rookies has Brady actually liked?