The death of Shane Warne hit us all hard over the weekend.

It's just so hard to beleive that the greatest Cricketer we've ever seen is no longer with us.

Tributes from anyone who's anyone, along with the average punter on the street is testament to the man he was, and always will be. 

To celebrate all things S.K. Warne, we've dug deep into our own archives and found this blog from 2020, when Warnie launched his fragrence, celebrating all products with the name Shane Warne on it.

Bowled, Shane. 

"The woody and boldly intense fragrance exudes sophistication, sensuality and warmth with sumptuous ingredients that envelop the senses."
That dear reader is the description for the brand new Shane Warne fragrance that's now available at Chemist Warehouse.
There's no doubting that the general public has been wanting to have that scent of Warne for years and both Shane Warne and Chemist Warehouse are giving consumers what they want.
What people would give to be just like Shane Keith Warne both on and off the field.
Shane Warne is more than just the GOAT of Cricket.
He's a one-man promotion king.
If you purchase any products that meet Warnie's stringent standards you can also live life just like Shane.
Smell Like Warnie
Drink Like Warnie.
Sanitize Your Hands Like Warnie.
Gin not your thing?
Enjoy a nice red…just like Warnie.
And don't worry lovers of the amber nectar…
Warnie's got you covered with "99 Not Out"
AS IF SHANE KEITH WARNE WOULD DRINK CRAFT BEER. VB ALL THE WAY. 
Don't Drink?
That's ok.
Warnie and his mate Sachin and enjoys Pepsi!
Feeling Hungry?
Get on down to Maccas for a Warnie Burger!
Need to load up on the Carbs?
Let Warnie and Leggos sort you out.
Sure Warnie can do fine dining, but he can't go past a simple tin of Baked Beans.
Want to look like Warnie but don't want that high-price associated with high-end fashion labels?
You need the Warnie fashion label – SW23
He's got you covered from everyday sports gear.
And in the downstairs department with his "Spinners' underwear.
To make sure you've got the comfort where you need it most…just like Warnie himself.
One can only assume you can get Warnie gear at Just Jeans.
Get some Nike's.
Just Like Warnie.
Just Do It.
And if you do purchase any Warne fashion products, you're best to get it on eBay…just like Shane would.
What's Shane Warne's greatest fear?
Warnie's got two words for you:
YEAH! YEAH!
Been caught fooling around with someone else's misso and need to get away but the car has broken down?
Holler for a Mashall!
Just like Warnie!
Warnie is not only BIG in Australia.
He's MASSIVE in England.
Cricket would be dead in this country had Warnie not appeared in this ad back in 1997
Like Video Games?
Shane Warne Cricket '99 is all you need.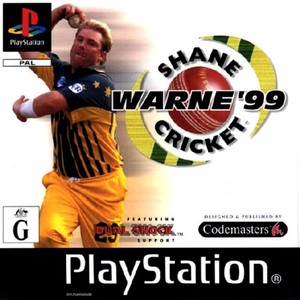 Warnie doesn't need no Netflix or Stan.
He's a Foxtel man through and through.
Sorry Warnie missed your call.
Leave a message (on hold that is)
You can bloody take on Warnie in Supercoach!
By purchasing all of these products, you too can be just like Warnie.

Bowled Shane.

Thanks for everything, we'll miss you mate😢