Sport and sponsors.
You can't live without them.
We all know that sponsors are vital for sport around the world and we here at Neds are proud to get behind our teams.
If anything, this has given us the perfect excuse to come up with a list of some of the more iconic ones in Aussie sport from over the years.
Rugby League
Winfield Cup
It was all about making the big game bigger and Rugby League was simply the best from 1982 – 1995.
They stopped being a sponsor for obvious reasons.
Canberra Raiders & Canberra Milk & Video Ezy
Watching one of the 5 weeklys you got for $7 at Video Ezy whilst drinking Raiders Lime is exactly what the likes of Mel Meninga and Laurie Daley did back in the day.
Brisbane Broncos & POWERS
The new POWER team of Rugby League sponsored by the new POWER beer of Queensland.
They even moved home ground from Lang Park to ANZ Stadium so they could sell POWERS at their games.
Easts/Roosters & City Ford
The Roosters' current sponsorship with Steggles is iconic but one can simply not go past the original jersey sponsor – CITY FORD.
In fact, CITY FORD was the original jersey sponsor for any team in Australian sport.
Souths & Smiths Crisps
Souths have had many a fine sponsor over the years (TV Week is a personal favourite of mine) but you simply can't go past the likes of Mario Fenech in a Smiths Crisps jersey.
Penrith & Dandah Uniforms
Perhaps Dandah Uniforms (who still exist) should get back on the Panthers shirts following their Grand Final triumph and they can really get back to the glory days.
Newcastle Knights & Henny Penny
The Novocastrian's choice for takeway chicken were proud sponsors of the Knights in their foundation days and quite frankly, if Newcastle wants another premiership getting Henny Penny back on board would be a great start.
Manly & Pepsi
Manly made the choice of a new generation and had a big night on the Pepsi after the 1996 premiership.
Illawarra Steelers & BHP
Illawarra. Steelers. BHP – a match made in heaven!
Parramatta & James Hardie
The Eels were winning Winfield Cups while sponsored by James Hardie.
What could possibly go wrong?
Gold Coast Titans, Wests Tigers & Neds
When today's jerseys join the retro range in years to come, any team that had our iconic orange and white logo on it will without doubt be the most sought after.
AFL:
The Camry Crows
The Adelaide Crows have been sponsored by the Toyota Camry since day dot and their original club song was "HERE WE GO CARMY CROWS"
Oh what a feeling!
Brisbane Lions & Neds
It's worth pointing out that the mighty Brisbane Lions have finished in the finals for all three years we've been their major sponsor.
Coincidence? I think not.
Collingwood & Spicers Paper
The Pies have been sponsored by Emirates for the good part of 20+ years now, but the sight of Tony Shaw holding up the 1990 Premiership cup or Mick McGuane going for a run down the MCG has SPICERS PAPER written all over it.
Essendon & Speed Kills
DON and Nubrik also fall into this category of iconic Essendon sponsors, but one can simply not go past Kevin Sheedy waving his jacket with the Speed Kills sponsorship.
Geelong & Ford
Ford no longer makes cars in Geelong, but they still sponsor the Cats and have been doing so since 1925!
It's quite possibly the longest sports sponsorship in the world and Ford even has their own grandstand named in its honor at Kardinia Park.
Hawthorn & HFC Finance
Hawthorn's 1980's golden days had them sponsored by a company that had the same acronym as the club – HFC Finance (who also sponsored the Canterbury Bulldogs around the same era).
It was a perfect match.
North Melbourne & Courage Brewery
Nothing more iconic than those NORTH HAVE COURAGE jackets and dressing gowns worn by players and officials as Ron Barassi was giving the Kangaroos an almighty spray at Arden Street back in the day.
St Kilda & Piping Hot
While some sporting clubs from around the world seek kit sponsorship from the likes of Nike, Adidas or Puma – St.Kilda went one better in the mid-2000s and signed up Target surf brand – Piping Hot.
Australian sporting fashion had reached its peak.
Sydney & QBE
QBE has sponsored the Sydney Swans since 1988 when the club was at an all-time low and have stuck with them ever since.
It's a partnership that's paid off big time.
Subiaco Oval & Messages on Hold
Go back and watch a game from the old Subiaco Oval in Perth and notice the Messages on Hold signs behind the goals.
Unfortunately, the Messages on Hold Signs didn't make the transition to Optus Stadium.
This year's AFL Grand Final in Perth definitely lacked something with no Messages on Hold signs in the crowd.
Norwich Rising Star
It's been sponsored by NAB for almost 20 years but many, including Hawthorn coach Alistair Clarkson still refer to it was the Norwich Rising Star.
Cricket:
Mercantile Mutual Cup
There's only one domestic Cricket competition that has a place in our hearts.
MERCANTILE MUTUAL CUP TILL I DIE.
KFC Big Bash & Cricket in General
It has got to a stage where people do wear KFC buckets on their heads at the Cricket.
The summer is dominated by KFC ads.
Benson & Hedges Test Series, World Series & World Cup.
For obvious reasons, Benson and Hedges are long gone from Cricket but just about everything had the B&H logo next to it.
Racing:
Fosters Melbourne Cup
That Tuesday in November was long sponsored by Fosters and in the final Fosters Melbourne Cup in 2000 it was won by Brew.
How fitting!
Colgate Optic White (George Main) Stakes
Nothing gets the punters more inspired and up and about than the annual running of the Colgate Optic White Stakes.
A real breath of fresh air!
Bumble Stakes
No horse will ever want to be scratched from the Bumble Stakes which has been a feature of recent Melbourne Cup Carnivals.
All Group 1's sponsored by Neds
The Neds Caulfield Guineas, Neds Stakes, Neds Blue Diamond, Neds Oakleigh Plate, Neds Sir Rupert Clarke Stakes, The Neds Futurity…all magnificent group 1 races with a magnificent iconic sponsor.
Supercars:
Tooheys 1000
Bathurst and the V8s have had no shortage of sponsors and there's not an inch of clothing that hasn't got some space for any of their fine partners, but we reckon Bathurst was at its peak when it was the Tooheys 1000.
Soccer:
Hyundai A-League
ISUZU has taken the reigns as part of a refreshed, new look-new feel A-Leagues
But from its first season to only just recently, the A-Leauge and Hyundai was a long-term and very successful partnership.
Sydney FC & Bing Lee
Forget Manchester United and Sharp, Newcastle United and Newcastle Brown Ale, Arsenal and Sega, Iner Milan and Pirelli, Barcelona and Unicef – we're all about the BING LEE / Sydney FC sponsorship in this blog.
Gold Coast United & Freedom of Speech
Clive Palmer made his Gold Coast United team wear "FREEDOM OF SPEECH" for one game against Melbourne Victory in 2011.
Gold Coast United was booted out of the A-League a few days later.
Rugby:
The Wallabies & Vodafone
Currently sponsored by Cadbury and coming off a long stint with Qantas prior to that, the good old days for Rugby in Australia saw our national team decked out a Vodafone sponsored jersey.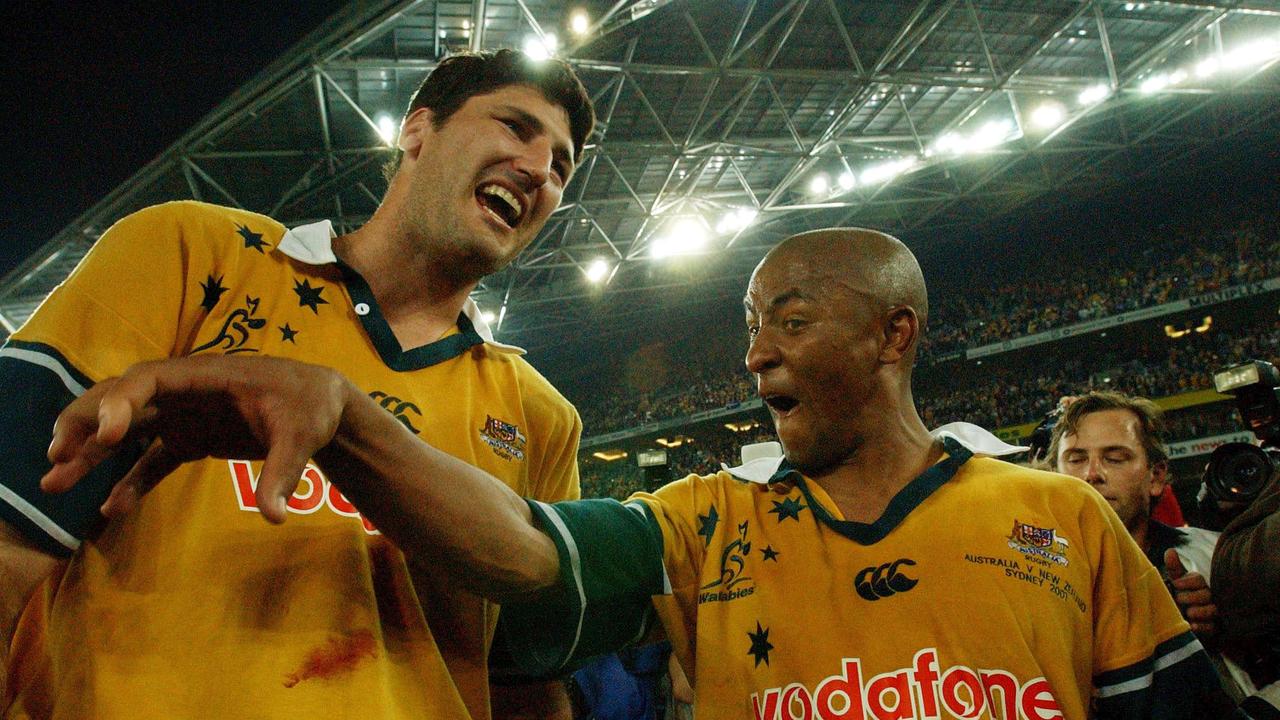 HSBC & NSW Warratahs
Having a Rugby Union team sponsored by a major multinational bank is very on-brand and has an excellent understanding of the relevant audience.
Tennis:
KIA Australian Open
We'd also say the FORD Australian Open was iconic, but the all-time great speech from Mr. Cho after the epic 2017 Australian Open final sealed the deal.