Being a coach of any sporting team is not a job for the faint-hearted, especially in the NRL.
Rugby League coaches are put under the spotlight 24-7 with their every move questioned, scrutinized, and analyzed by anyone and everyone.
Sometimes that pressure can really get to the coach's box and they all let it out in public.
The Magic Round head-high crackdown resulting in an unbelievable amount of sin-binning/s over the weekend really tested the patience of commentators, fans, players, and especially the coaches.
The @NRL says the crackdown on high shots will continue after more players found themselves in the sin bin last night. The @SydneyRoosters and @SSFCRABBITOHS were both reduced to 11 men in hard fought wins. But two of the games' greatest coaches say it's what the game needs. #NRL pic.twitter.com/JLwOUZAPD8

— 7NEWS Canberra (@7NewsCanberra) May 16, 2021
1⃣ 2⃣ sin bins and 1⃣ send off…

Pressure mounting as players and coaches call out 'ridiculous' NRL crackdown

MORE: https://t.co/ub6cyQ8oKe pic.twitter.com/A4ZQhqJQa5

— Fox League (@FOXNRL) May 15, 2021
Coaching is not a job for the faint-hearted and many of them wear their hearts on their sleeve.
It takes a certain personality to coach a Rugby League, let alone any professional sports team.
In fact one coach in his frustration with Rugby League, opted to take it out on another sport, which went down really well.
NRL coach Ricky Stuart apologises after suggesting netball 'not tough', hopes sport enjoyed the media attention | @sarah_keoghan https://t.co/U98xUy1tAh

— The Sydney Morning Herald (@smh) May 14, 2021
It was only a few weeks ago that poor old Kevvie gave the Broncos a spray BEFORE the game (they almost won)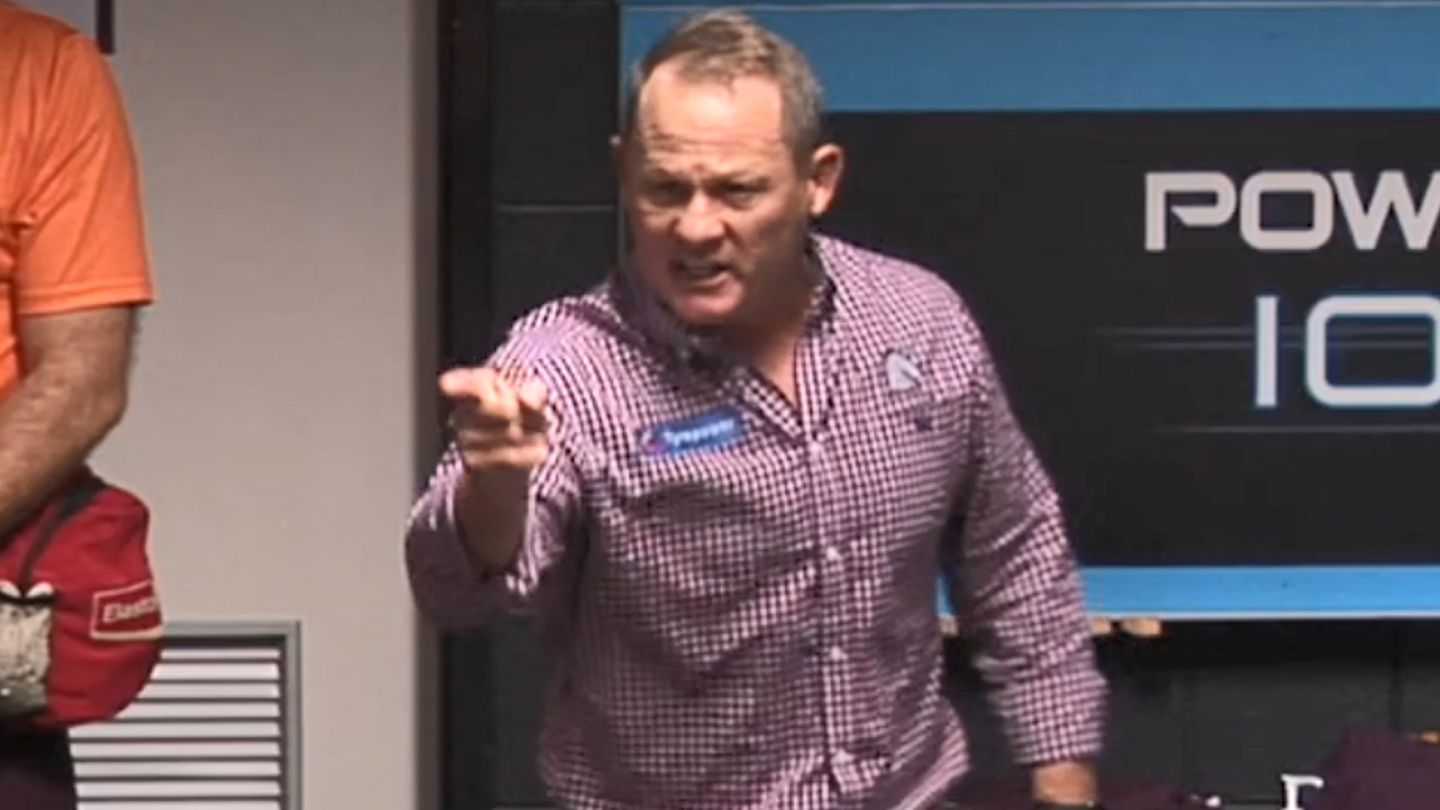 And while we could celebrate the genius tactics or inspirational speeches some coaches have given out in the past we know you're just here to watch clips/view photos of them cracking the shits.
We couldn't possibly do an article without mentioning Geoff Toovey, otherwise, they'd have to be an investigation into it…
Here are some of the all-time greatest hits of NRL Coaches getting cranky:
Des Hasler 
The gift that keeps on giving.
When he's not referring to the refs as "Voldermorts"
Or when the blokes in the corporate box are trying to get an insight into how Des operates in the coaches box
That time a corporate box spectator tried to eavesdrop on Des Hasler's coaching. 😆#NRL pic.twitter.com/OkrFnvkBgm

— @Georgebakhos1 (@GeorgeBakhos1) June 22, 2020
Nothing will compare with the time Des broke the door.
Craig Bellamy 
Linkedin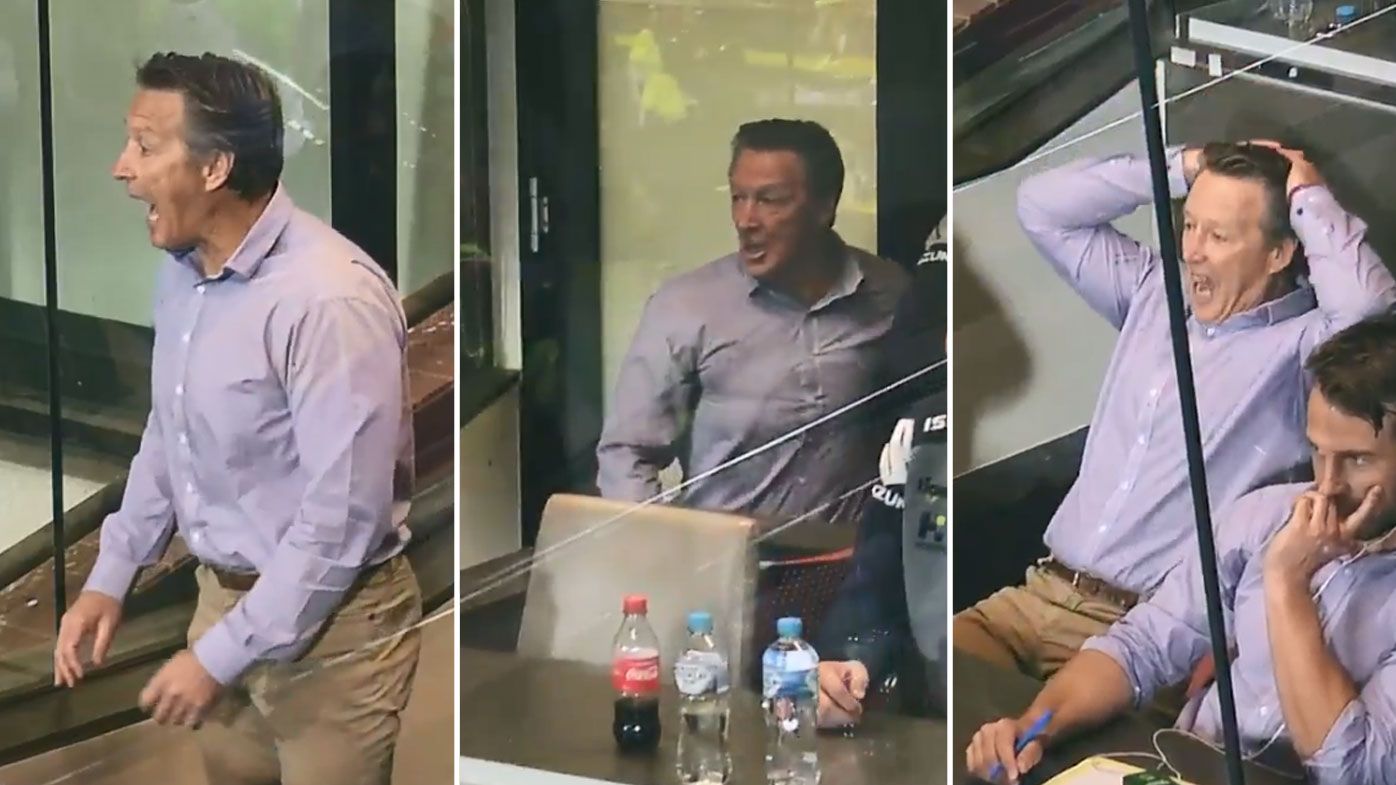 Facebook.
Instagram.
Tinder.
Ricky Stewart 
We could have a blog devoted to Ricky to be honest.
"When you get shit refereeing, sorry, when you get poor refereeing decisions that are just incorrect, purely incorrect, that frustrates you because it's a tight competition and every game's a tight game"
That little outburst cost old mate Ricky $10k
Ideally, Ricky should probably get his own dedicated blog to when he gets angry, but this image of him back in his Parramatta days sums it all up.
Geoff Toovey 
You can forget about any Royal Commission, was there ever an investigation?
Phil Gould 
Gus Gould an angry old bugger?
NO. WAY.
When I think calm, cool and collected Gus Gould is the very first person that springs to mind.
Bill Harrigan was way out of line when he sent him off back in 1994.
Nathan Brown
For some, "The Slap" is a 2011 Logie Award ABC mini-series based on the novel by Christos Tsiolkas starring the likes of Melissa George (Angel from Home and Away), Jonathan La Paglia and Alex Dimitriades.
In the world of Rugby Leauge, "The Slap" is the time then St.George-Illawarra coach Nathan Brown slapped Trent Barrett at WIN Stadium back in 2003 in full view of the cameras.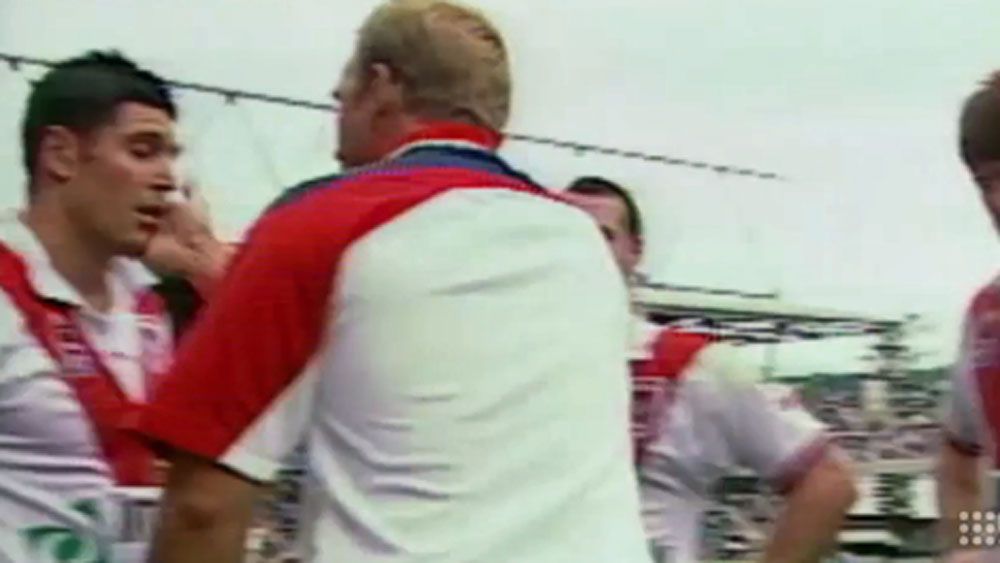 The Dragons lost the game 38-12.
Wayne Bennett 
The GOAT of coaching is also the GOAT of being a grumpy old man.
Nobody does it better.
It's best summed up in this picture.
Tommy Raudonikis (RIP) 
The great man passed away earlier in the year, but one can only imagine the kind of sprays old Tommy would have given back in his day.
If you took it personally, he'd tell you to HARDEN UP.
Roy Masters 
Post coaching, Roy has made a name for himself being cranky.
This is just some of his finest work back in the day coaching the Fibros.
Mal Meninga
To be fair, Mal's been relatively calm during his coaching career.
We just wanted an excuse to focus on his attempt to become a politician.