You'd think that after being a three-time premiership coach, Richmond's Damien Hardwick would be pretty happy with most things the football world has to offer, but you'd be wrong.
Despite the Tigers' thrilling 4-point win over GWS on Saturday night, Dimma made it clear to the media in his press conference he was no fan of Marvel Stadium.
Dimma's not a fan of Marvel Stadium pic.twitter.com/eUMMsgQu3E

— 7AFL (@7AFL) May 16, 2021
It's fair to say Dimma's critique of Richmond playing a rare home game at Marvel Stadium has gone down well with opposition supporters and commentators
'Spoilt' and 'precious' is how Matthew Lloyd and Kane Cornes described Richmond after its complaints about Marvel Stadium. pic.twitter.com/6ZuyM6kqgi

— Footy on Nine (@FootyonNine) May 18, 2021
Hardwick has form of getting a bit cranky in a press conference.
After one of the worst games of Australian Rules Football ever played in Round 6 last year, Damien Hardwick told the media what he really thought about it and pointed the finger at the tactics of the Sydney Swans.
Dimma blames Sydney for the 'horrendous game of football' pic.twitter.com/sxMcAsJ6EC

— 7AFL (@7AFL) July 12, 2020
Swans coach John Longmire was quick to fire back.
"I'm not sure it's my role to walk up to Damien's coach's box, knock on the door and say 'what would you like us to do?' That's how it happened."

Swans coach John Longmire has returned serve to Damien Hardwick: https://t.co/AyhpB5QVED @BenHorne8 pic.twitter.com/GnUVtDQ7RL

— SuperFooty (AFL) (@superfooty) July 13, 2020
In a world usually rife with cliches and diplomatic responses, seeing two coaches not afraid to speak their minds was very refreshing.
Coaching is no easy job and most of them wear their hearts on their sleeve, and we love it.
Dimma having a sook about playing at Marvel has given us the perfect excuse to begin our new blog series of Cranky Coaches – starting with the AFL.
Alastair Clarkson
With four premierships to his name, Clarko is widely regarded as one of the greatest in the modern era of coaching.
However, for all the accolades of premierships, Hawthorn dynasties and genius tactics – he'll widely be remembered for that time he punched a wall in the MCG coaches box.
Nathan Buckley 
Bucks is known for his cool and calm public persona, but you wouldn't blame him if he cracked the sh*ts in a press conference at some stage.
Even if Collingwood extends his contract.
An honourable mention in this catergory.
Chris Scott 
Never has there been a more GIF-worthy coach than Geelong's Chris Scott.
He can have all the well-reasoned, philosophical and sensible discussion about the game but at the end of the day, we just want to see his facial expressions in the coaches box.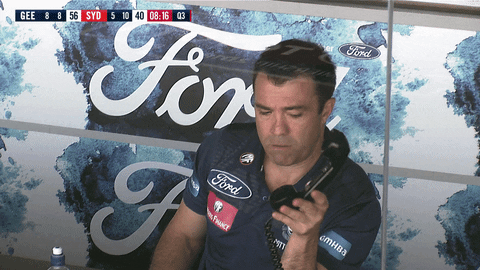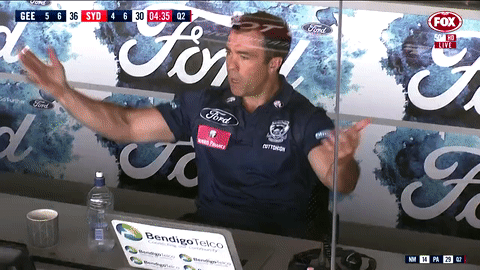 Thank you Chris Scott for all your gif goodness.#AFLCatsHawks pic.twitter.com/7ssoRQ3NKp

— AFL (@AFL) July 21, 2019
Chris Scott reaction GIF No.723 #AFLDonsCats pic.twitter.com/y4lfqjaQqL

— AFL (@AFL) May 19, 2018
If you ever wanted a night to create a Chris Scott gif library, tonight's the night #AFLDeesCats pic.twitter.com/ZFZtCu3LOW

— The Draft 'dry July' Doctors (@thedraftdoctors) September 7, 2018
GIF's aside, Scott's little quarter-time encounter with Lachie Neale back in Round 2 of this season was incredibly on-brand.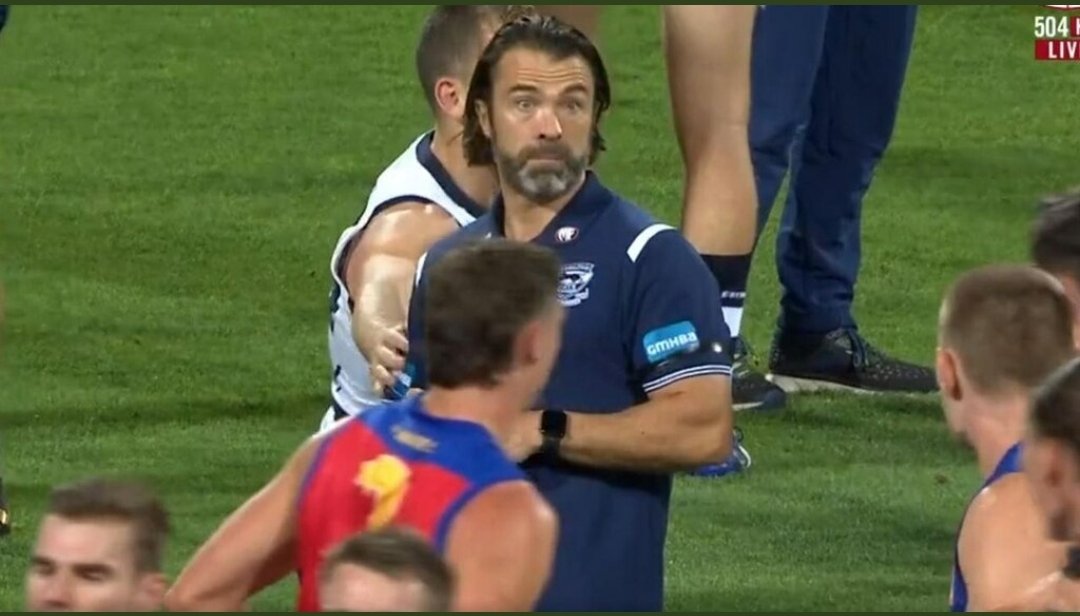 Brad Scott
Chris's identical-twin brother Brad was also known for his crankiness and facial expressions.
He achieved a lot with what he had at the Kangaroos in his 10-year stint as coach, but everyone will remember this moment captured by the FOX Footy cameras between him and Majak Daw during a game.
'I've got a pretty thick skin'

Majak Daw is ok with Brad Scott's spray: https://t.co/gtFnhPG8gN pic.twitter.com/sKdq5kXYAO

— AFL (@AFL) July 26, 2017
Towards the end of his time at North Melbourne, Brad wasn't afraid to give David King a little bump on the way out.
Brad Scott: "There was a time I put my shoulder straight through David King and he didn't respond then either. I'm not about to start doing that again." pic.twitter.com/iBQ2lNHTxw

— 7AFL (@7AFL) May 25, 2019
Ross Lyon 
Currently not coaching anyone, the former Freo and St Kilda coach is likely to return once the next vacancy opens up.
Whatever you thought of his tactics, his post-game press conferences were always must-watch viewing, especially if he got cranky with the journos.
"You're quite brilliant Shane" remains the clubhouse leader.
Rodney Eade 
Rocket was not known for his patience and understanding during his stints as coach of Sydney, Western Bulldogs and Gold Coast Suns.
Audio of Will Minson copping it from Eade was leaked last year and it most certainly didn't fall under the category of "Easy Listening".
***LANGUAGE WARNING***
Mick Malthouse 
When it came to getting cranky with the fourth estate, Ross Lyon was only the manatee.
Mick Malthouse was the main event and his press conferences win, lose or draw were a masterclass in taking it out on the media.
Terry Wallace
Plough has never let allowing a camera crew to film his post-game spray after Footscray lost to Collingwood in 1996 go after he gave his infamous "I'll Spew Up" address

While the "I'll spew up" speech remains iconic, this underrated gem where Terry Wallace gets stuck into Herald Sun journalist Geoff Poulter has only recently re-emerged.
Now, go and have your showers and we'll see you back at the social club.
David Parkin
The legendary coach was the Chris Scott of his day for shots of him barking down the phone in the coaches box.
He's should consider himself lucky he wasn't coaching in the age of the GIF.
Premiership coach David Parkin was no shrinking violet in the coach's box. He's the special guest @thefrontbar7 tonight 8.30 pic.twitter.com/pDJ1XT00EH

— channel7 (@Channel7) August 23, 2018
Malcolm Blight
The man they call "the messiah" was known for his unique coaching methods but while he wasn't known for being cranky, he most certainly could dish it out on his players in a very public forum.
Just ask David Pittman
Or the time when he was coaching the Cats and singled out Austin McCrabb from the quarter time huddle.
And there was the time during his cameo as coach of the Saints, he brought the players back on to the ground after losing to Melbourne to give them a spray.
Alan Jeans and Tom Haffey
Sunday's post-game exchange between Damien Hardwick and John Longmire was just banter.
When the then coach of Hawthorn Alan Jeans and Geelong's Tom Haffey fronted up on World of Sport the day after the Leigh Matthews/Neville Bruns incident the tension was palpable.
Tony Jewell and Percy Jones 
Back in 1980, coaches didn't just exchange words – they exchanged fists!
Well, sorta.
Richmond coach Tony Jewell and Carlton coach Peter "Percy" Jones had a bit of push and shove at quarter time of the 1980 Qualifying Final.
Ron Barassi 
We've saved the best till last with the one, the only Ronald Dale Barassi
Be it giving it to his team on crutches
Calling Darryl Sutton a certain expletive
Or dragging Gerard Healy off
Nobody got cranky quite like Ronald Dale.