We all love the glory of sport, the highs, the victories and the triumphs but in spite of many of these high performing athletes operating at the top of their field, there is a phenomenal level of pettiness in a lot of these competitions.
Take the Italian Open for instance, it wrapped up last week with Novak Djokovic and Simona Halep taking home a (reduced) pay packet due to the financial hit the tournament took because of COVID.
Under normal circumstances the men's tournament winner would receive more prize money than his female counterpart and just because the sums were reduced this season, apparently doesn't mean the players would receive an equal share.
The difference between the two winners? A measly sum of €10… that's right, TEN euros or one large and one small coffee at your average Italian café.
Utterly hilarious that Rome, long an unequal prize money event, came SO CLOSE to giving equal prize money to both the finalists and champions today, but then decided to reduce the women's prize money by *10 EUROS* to keep the men on top, however slightly. (h/t @Bob__Kim) pic.twitter.com/3TZ19qW84h

— Ben Rothenberg (@BenRothenberg) September 21, 2020
Maybe there's a legitimate justification for that difference (although I have my doubts), but it set a new standard for pettiness in professional sport.
Here are some entries from other competitions around the world, be it random petty actions or other moments of going for the lowest possible act.
Football Players Grabbing the Ball & Walking it Away from a Throw In
Admittedly this is a minor thing in the big picture but is there anything more lowbrow than a footballer playing silly buggers when an opponent is trying to take a throw in?
Also, on the list is yelling at the ball kids on the side of the pitch, what good does that achieve?
Arguing with a Substitution
Sometimes you wonder who is running certain clubs with the influence players have over transfer decisions, team setups and more.
Some can even influence in-game substitutions, leading to some all time dick-measuring contests as a player refuses to be substituted.
Check out Chelsea goalkeeper Kepa facing off with Maurizio Sarri in the Carabao Cup Final
While itt's nearly impossible to take some players off the pitch but when a footballer on several hundred thousand pounds per week doesn't get along with the manager, they are happy to bide their time on the bench.
Just ask Gareth Bale.
Gareth Bale's representative: "He knows that there's a camera pending only for him all game even while on bench, So he tries to give him work." pic.twitter.com/5WQ6FLDIxv

— Real Madrid Info ³⁴ (@RMadridInfo) July 14, 2020
Actually, that whole Zidane v Bale saga brought out some ultra-pettiness that set new levels of trolling.
"Wales. Golf. Madrid. In That Order"

Gareth Bale and Wales really celebrated their #EURO2020 qualification with this flag. 💉😂 pic.twitter.com/T7jcFYVzhw

— FOX Soccer (@FOXSoccer) November 19, 2019
Celebrating in Front of their Old Fans
We all know how passionate some football fans are so players love to give it back when given the opportunity.
Emmanuel Adebayor left Arsenal under some heated circumstances to join Manchester City and the fans let their frustrations with the forward be known.
Adebayor ran 120 yards to celebrate in front of the visiting fans in his first game against them at the Etihad in the ultimate middle finger to his former club.
Something iconic happened 11 years ago today… 😂

📅 #OnThisDay
🔷 #ManCity | https://t.co/axa0klUGiM pic.twitter.com/KPvwFdmspW

— Manchester City (@ManCity) September 12, 2020
Formula One Team Orders & Drivers Disobeying Team Orders
At some point, we really need to decide if Formula 1 is going to be a team sport or an individual one because right now, the world title and constructor's championship are clearly not on the same footing.
It seems like a couple of times per year a certain (German) driver is copping some heat for disobeying team orders to further his own individual world championship ambitions.
And said (German) driver doesn't mind incurring the wrath of his "teammate" (we use that term VERY loosely) with him when he overtakes them for the race victory.
Can you sense a theme about who might be guilty of thinking about himself?
2013 –

"Multi 21, Seb. Multi 21."

Mark Webber is fuming after Sebastian Vettel ignores Red Bull team orders to overtake him and win the #MalaysianGP. pic.twitter.com/VQFj0AUHle

— GP Racing Stats (@gp_racing_stats) March 24, 2019
Charles Leclerc follows team orders and lets Sebastian Vettel move past!

Your standings after 10 laps at the #ChineseGP 🇨🇳

1. HAM
2. BOT
3. VET
4. LEC
5. VPN
6. GAS

LIVE: https://t.co/hpp6CrpEFV #bbcf1 pic.twitter.com/KECdW0lsso

— BBCF1 (@bbcf1) April 14, 2019
"There was no plan of any team orders or anything," insists Sebastian Vettelhttps://t.co/0LmlWfItLj … #SkyF1 #MonacoGP pic.twitter.com/E1tVqleWqJ

— Sky Sports F1 (@SkySportsF1) May 28, 2017
Lewis Hamilton has won a controversial Russian Grand Prix after Sebastian Vettel ignored team orders.

Full story ➡ https://t.co/OCC9qd3wjx #RussianGP #bbcf1 #F1 pic.twitter.com/3GwPwK8ICc

— BBC Sport (@BBCSport) September 29, 2019
Under Arm Bowling
Do we really need to go into more depth about why this is a bad move?
"It was a cracker. It's not that easy – if you haven't practiced bowling underarm – to bowl one that's going to hit the stumps at the other end."

💀💀💀 #Underarm pic.twitter.com/xxCc7AUPvW

— 7Cricket (@7Cricket) February 4, 2019
Mankad
Yes, it's legal by the laws of the game but is it really worth being known as "that guy (or girl)"?
Following the uproar over Ravi Ashwin's IPL 'Mankad', here's a look back at an incident from a 2012 ODI against Sri Lanka at the Gabba pic.twitter.com/IRR528s0ha

— cricket.com.au (@cricketcomau) March 27, 2019
Not Shaking Hands
Ok in the current climate some might say this is fair game but tradition in boxing and MMA is to touch gloves before fighting.
Some believe it is bad karma to not touch gloves and there is some evidence to support that theory, just as Ronda Rousey.
Ronda Rousey vs Holly Holm pic.twitter.com/BzvYzdcjqY

— MMA Gone Wild 🅙 (@mmagonewild) November 14, 2019
Tennis Tantrums
Just remember, when you lose a Grand Slam Final, it's always someone else's fault, not yours!
Remember when Serena Williams stole the focus from Naomi Osaka's first US Open victory?
We could easily include Nick Kyrgios as well but he's having a good year so we'll let this one slide.
AFL Clubs Complaining About Alternate Jerseys
Eddie McGuire is now possibly more well known for his hatred of Port Adelaide's prison bar jersey than his work on Who Wants to Be a Millionaire.
For some reason another club having a similar strip might confuse people?
It's a petty hill to die on if he so chooses.
Collingwood supremo Eddie McGuire just seriously escalated his prison bar guernsey stoush with Port rival David Koch. https://t.co/vWMiWzvLiu

— Footy on Nine (@FootyonNine) June 18, 2020
Some AFL fans can get really precious about wearing anything other than their primary strip, remember the controversy about Richmond possibly having to play the 2017 Grand Final in their away jersey?
Shut up about the clash jersey- Your team is in the @AFL Grand Final- 16 other teams would swap! Clash jersey in GF or finish 9th?

— Corey McKernan (@CoreyMcKernan) September 24, 2017
The two strips didn't clash in the 2017 AFL Preliminary Final, but apparently, they do in this year's AFL Grand Final. #AFLGF pic.twitter.com/2eYIohk0zU

— Adam White (@White_Adam) September 28, 2019
Not to mention certain clubs whose idea of a clash strip is just inverting the colours of the hoops of stripes… THAT DOESN'T SOLVE THE PROBLEM!
But let's remember the AFL is a special case and certain teams just can't seem to grasp the concept of different colours… even though just about every other code have been able to get their heads around it.
AFL Players Pushing and Shoving At Every Stoppage
For some reason at the start of every Aussie Rules match, the players all pair off with an opponent and insist on some random pushing and shoving.
Maybe they need to warm up, maybe they are just getting cold in the southern states but it certainly does look familiar to something else we've seen before.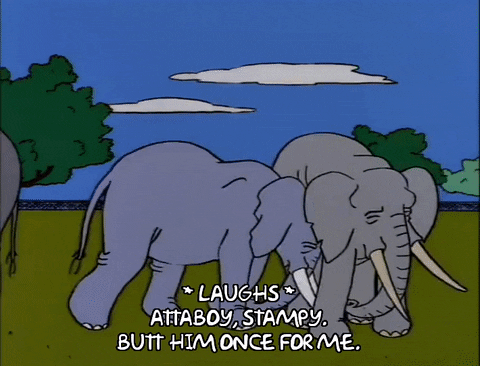 The only time that sort of needling ever seemed to work was on Alistair Lynch in the 2004 Grand Final.
RECALLED: @PAFC's Darryl Wakelin and @brisbanelions' Alastair Lynch relive THAT fight – https://t.co/A3c9fbg3gu pic.twitter.com/EsB0kxJGqd

— SuperFooty (AFL) (@superfooty) October 25, 2014
The Last Dance
Michael Jordan basically just decided that he needed to remind everyone how good he was with the release of The Last Dance and in the process, reminded everyone just how ruthless and competitive he could be.
Or as some called it, petty.
The emergence of a new beef between Scottie Pippen and Michael Jordan after the latter's comments in the 'The Last Dance' shows that MJ is just as petty as he was during his playing days https://t.co/79yy7VSqXD pic.twitter.com/tkHfLulSl3

— Forbes SportsMoney (@ForbesSports) May 22, 2020
Would you expect anything different from the guy who did this for his Hall of Fame speech?
Complaining About the Haka before a Bledisloe
The Bledisloe Cup gets underway in a few weeks and the barbs always get slung across the Tasman, especially when it comes to New Zealand's pre-match Haka.
Fomer Wallabies player Greg Martin loves to generate some headlines claiming it gives them an unfair advantage but as we have seen, there is always a way to come up with a creative response.
How can you complain about this? It's awesome.
The first @AllBlacks haka of the Rugby World Cup 2019. Can New Zealand go all the way? #RWC2019 #NZLvRSA @rugbyworldcup pic.twitter.com/MjJf8YYh30

— ITV (@ITV) September 21, 2019
Going off on Twitter After a Game
Some athletes love to go on Twitter to tell us just how good they are, one of the most famous ones to do so is 49ers cornerback Richard Sherman.
Sure he went to Stanford University and is a smart guy but you would think by now that posting something like this is asking for trouble, especially towards a retired player.
I would go in on this has been but I have a Super Bowl to prepare for. Enjoy the view from the couch. Your ninth year looked a lot different than this. Lmao https://t.co/jj3pwWYhVa

— Richard Sherman (@RSherman_25) January 20, 2020
It's never a good sign when in your next game, a Super Bowl no less, you get burned for a huge gain.
Sammy Watkins says he saw Davante Adams "kill [Richard Sherman] on inside release" in the NFC title game ✍️

After recognizing man coverage in the 4th quarter of the Super Bowl, Watkins torched him for a huge 38-yarder.

(via @thecheckdown)pic.twitter.com/NIF47kWtgi

— Bleacher Report (@BleacherReport) February 4, 2020
US Sport Championship Parades
It's basically just a gigantic middle finger to whoever you defeated on the way to the title and these American athlete's love to get petty when they are full of confidence (and alcohol) after a big game.
Of course some coaches take that sort of petty to a whole new level like Bill Belichick, reading the Philadelphia parade route to his team… the night before the game would be played.
In classic Belichick fashion, the last time the @Patriots played the @Eagles in a Super Bowl (XXXIX), he read the Eagles' exact parade routes in a pregame speech to hype up his team. The rest is history 👌🔈 pic.twitter.com/WGufaT80jj

— The Checkdown (@thecheckdown) January 25, 2018