Arguably the best thing about the UFC is the wide variety of personalities and characters that fight in the promotion.
The UFC's foundation was built on the back of a reality show and the amount of drama and comedy within the sport at times resembles that of a cartoon.
So here's a comparison of some UFC fighters with the greatest cartoon of all time in our list of UFC Fighters That Look Like Simpsons Characters.
Paul Felder and Hank Scorpio
Well spoken. Very well groomed ginger beards. Confident and successful.
Sean O'Malley and Disco Stu
Aside from the obvious hairstyle, both have outgoing personalities, like to wear a chain, (allegedly) partake in recreational drugs and wear tinted sunglasses.
Dana White And Homer Simpson
Plenty would argue (plenty wouldn't) their intelligence is not on the same level, but it's hard to argue they don't look similar!
Photo credit to UFC Related Memes Page
Bryce Mitchell and Cletus Spuckler
Cletus is a slack-jawed yokel who may not have a lot of money but is much loved by all because of his good-natured personality.
Both love hunting and have had their fair share of accidents with electrical tools.
I really just wanted to add the following clip.
Somehow I don't think Cletus could have pulled this off.
Joanna Jedrzejczyk and Boobarella
Both of these ladies have TWO things in common.
They both have noticeable accents and they have both ENHANCED their reputation with their loveable personalities.
Nate Diaz and Hugo Simpson
Hugo Simpson was locked away early in his life and had to force his way out into the world to get out from his brothers shadow.
Sick of getting no credit I believe Hugo is quoted as saying "Bart, you're taking everything I worked for motherf*cker. Let me fight your fucking ass."
Dr. Nitin K. Sethi and Dr Nick Riviera
Dr Nitin K. Sethi is the doctor that stopped the Nate Diaz vs Jorge Masvidal fight at UFC 244.
I'm not sure what he looks like but I can assume it is exactly like Dr Nick Riviera.
And that he is just as incompetent.
Michael Bisping and Horatio McAllister (Sea Captain)
Okay, they don't really look anything alike and I doubt Michael Bisping has spent much time on the water being from Manchester and all.
They do have one thing in common though…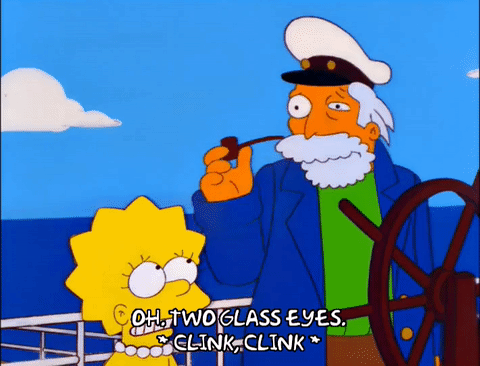 Check out our other UFC blogs
Tony Ferguson's Weirdest Moments