Bombers fans can breathe a somewhat sigh of relief that only two players will need to quarantine as a result of Connor McKenna's positive COVID-19 test.
At one stage it was looking as though the Bombers were going to field a team against Carlton this weekend no matter how many outs and the club were faced with, leaving them desperate for options.
The investigations unit here at Neds have had Essendon's top-up list leaked to us and we can reveal just who the Dons were considering to play for them this weekend.
(1) Dustin Fletcher
The 400 game Bomber legend has already made it clear via Twitter that he is willing to pull the boots on again.
Making his debut as a 17-year-old way back in Round 2, 1993 (the game in which Stephen Kernhan kicked it out of bounds on the full after the siren to tie the game), Fletcher played on until 2015 and was like a fine wine getting better with age.
One of those classic footballers where if he hadn't been forced to retire, he'd still be playing.
Where do I sign up for a game. Might take Full forward this time round. 🤣 https://t.co/fh4J9GKKjr

— dustinfletcher31 (@dustinfletch31) June 21, 2020
(2) Damien Peverill

A no-nonsense, workman-like style of player known for his consistency and hard at the ball approach across his 166 games for the Bombers from 2001-08.
Peverill was also voted sexiest man in the AFL for all nine seasons of his career.
One of the great cult heroes of the Bombers, Peverill would no doubt be welcome back by the red and black faithful. 
(3) James Hird 
Most Essendon and football fans are ready to move on from the supplements scandal that engulfed James Hird of recent years.
All will be forgiven if he can put on the long-sleeve number 5 jumper and help the Bombers at half-forward.
James Hird turns 46 today. His playing career was nothing short of legendary.

–– 2x premierships
–– 1x Brownlow medal
–– 1x Norm Smith medal
–– 5x All-Australian
–– 5x best & fairest
–– 3x Anzac Day medals pic.twitter.com/zEBRduyRxO

— 7AFL (@7AFL) February 4, 2019
(4) Courtney Johns 
The ultimate in Essendon cult heroes, blonde dreadlocked Courtney Johns should be given another chance to resume his AFL career should the opportunity arise.
Drafted by the Bombers in 2002, it took three seasons for the injury-plagued Johns to make his debut for Essendon in 2005.
Kevin Sheedy dubbed Johns "The Southern Aurora" referencing a train.
Johns played 21 games for 18 goals from 2005 – 08. 
Provided he's still got the blonde dreadlocks, he can make it 22 career games from this weekend. 
(5) Dermott Brereton 
Five day-Five night Dermott Brereton hates Essendon.
He refers to them as the "Dirty Bombers"
There was even a famous back-page of the Herald Sun featuring a photo of Dermott burning an Essendon jumper. 
Some of Derm's best highlights have involved Essendon, including knocking out Paul Vander Harr in the 1989 Preliminary Final and kicking eight goals against them in a losing Grand Final for Hawthorn in 1985.
The man even made Hawthorn start a donnybrook against them some 10 years after he retired in the infamous line in the sand game.
He'd never be seen dead in a Bombers jumper, or would he?
2020 has resulted in strange things happening and desperate times call for desperate measures.
It's worth pointing out that Dermott does indeed have experience in being in the Essendon huddle, however, current COVID19 restrictions would prevent him from planting a kiss on Essendon players as he did with Billy Duckworth. 
(6) Brendon Goddard 
I wouldn't want to be that bowl of pretzels if BJ made a return to the Dons.
Everyone knows Brendon Goddard was filthy when the Bombers gave him the Freo-heave-ho after the 2018 season. 
The man thinks he can still play and probably sent a text to Woosha letting him know he was available if need be. 
"I thought it was hilarious."
Joe Daniher backs Brendon Goddard but might hide the pretzels in future.
AFL DAILY: https://t.co/C20nyaSic3 pic.twitter.com/jEws5AOJ7P

— SuperFooty (AFL) (@superfooty) June 5, 2017
(7) Tony Antrobus 
If we're bringing back cult Bombers players to pull on the boots once more, what about the angry ant – Tony Antrobus?
With that glorious flowing Mullett and solid moustache, the Angry Ant played 22 games for Essendon from 1987 after a stellar career at North Adelaide in the SANFL.
Remembered for being an aggressive player who never took a backward-step, Antrobus would add some much-needed mongrel to Essendon's forward line. 
(8) Scott Lucas
Lucas had a sensational 270 game career at Essendon and is a legend of the club. 
His seven-goal final quarter in Round 22, 2007 (James Hird and Kevin Sheedy's last game) v West Coast when the Dons were almost 50 points down and reducing the margin to 2 points to try and win the game for the club legends will never be forgotten.
If somebody can save the Bombers in their time of need, it's Scotty Lucas. 
(9) Dean Wallis 
The good news is for Dean Wallis that if he gets called up to make a comeback for the Bombers against the Blues this weekend, he can be rest-assured that Fraser Brown is long retired.
The 1999 Preliminary Final had one of the most talked about tackles in recent history.

Dean Wallis won't forget this one from Fraser Brown.

Re-live some of the best finals moments of all-time: https://t.co/SbvIjYJkpB pic.twitter.com/zJleKK7nag

— AFL (@AFL) September 5, 2018
(10) Toadie 
If 2020 is the year of the asterisk than Essendon should consider long-time Bombers fan and absolute stud-muffin Jarrod "Toadfish" Rebecchi to pull on the boots this Saturday.
Regular viewers of Neighbours would know that Toadie is indeed a mad Essendon supporter and constantly makes references to the Dons on the show.
There was even an episode of Neighbours that featured Toadie watching his beloved Bombers only to see that Stingray Timmins streaked on to the arena, costing the Bombers the match. 
The big question remains – just who will Toadie take as his date to the Brownlow? 
(11) Dean Rioli 
The Rioli family has been good to football.
You've got your Maurice, Cyril, Daniel and then there's Dean.
Dean Rioli played 100 games for the Dons from 1998-2006.
Footy fans remember him for his strong build and dynamic flashy play at the ball.
He was also once described by Tony Shaw as a "fat pig" but no matter the build, he let his footy do the talking.
Injury got the better of him, missing the 2000 finals series and Grand Final with a collarbone injury but any Rioli makes a team better and Dean on his day was an absolute superstar.
(12) Maddi Prespakis
 Granted she plays for Carlton in the AFLW, but league-best and fairest winner Maddi Prespakis could match it with the men of the AFL.
This young woman is an outright superstar and an absolute delight to watch.
If now is the time to bring in a mixed-AFL league, Maddi is the player to do it. 
Please be upstanding for your 2020 AFL Women's Best and Fairest, Madison Prespakis 👏 #AFLWAwards pic.twitter.com/o8ynu0JTIW

— AFL Women's (@aflwomens) April 28, 2020
(13) Warwick Capper
Sportsmens nights, bucks nights, porn star, meter maid, lollypop man, pop singer, top-up Essendon player – there's nothing that Warwick Capper won't do.
Winx-odds he's already offered to make a comeback to  the Bombers in which they've replied "don't call us, we'll call you." 
(14) Geoff Blethyn 
Bespectacled full-forward sensation for Essendon from 1968-72 Geoff Blethyn is another cult Bombers sensation who may have gotten a call up to make a comeback this weekend.
Blethyn kicked a whopping 107 goals in the 1972 VFL season before making the move to Claremont in the WAFL.
Bombers fans of an older generation will gladly welcome Blethyn back in the team and hipster Dons fans will dig the glasses.
Despite not having played since 1977, it's a win-win.  
@Coodabeens Geoff Blethyn was a pup pic.twitter.com/K528bqqdQb

— Swisch'll Know (@swishtter) August 24, 2019
(15) Derek Kickett 
Kickett hasn't played for the Bombers since 1993 but efforts in the EJ Whitten Legends game from over the years proves he's still got it. 
Kickett was famously omitted from the Bombers 1993 Grand Final team.
He left the club in disgust afterwards and didn't speak to Kevin Sheedy until 2018.
Now that Kickett and Sheeds have kissed and made up, it would be fitting that Kickett make a comeback and save the day for the Bombers. 
Tim Watson has discussed details on the meeting between Derek Kickett and Kevin Sheedy earlier this week | https://t.co/EB813EpEHi | #AFL pic.twitter.com/PTk5EndzVU

— SEN 1116 (@1116sen) May 29, 2018
(16) Smokin' Joe Misiti – AFL Live 2004 Version 
We live in a world of fake crowd noise and virtual fan walls via Zoom.
Essendon may as well name the Joe Misiti from AFL Live 2004 in the team this week, because 2020. 
(17) Mark "Jacko" Jackson 
Jacko hates modern football and the industry around it, he even said so in his infamous Open Mike back in 2016.
Why not give Jacko a game, put him up forward and basically watch as he spins the football, brings back the biff and put some proper entertainment into this made for TV season.
He won't have the crowd to fend off but he'll be able to give the viewers something. 
(18) Albert Thurgood 
One of Essendon's champion players from the foundation years of the VFL, Albert Thurgood hasn't played since 1906.
However, the 1901 Essendon premiership player, x5 leading club goalkicker, x3 Essendon VFA premiership winner, ranked 9th on the all-time Champions of Essendon list and AFL hall of fame member does appear to be on Twitter and along with Dustin Fletcher has put his hand up to play this weekend.
I'll join you, young Fletch.

Might take Centre Half Back this time round. https://t.co/BSzRnP7nXM

— Albert Thurgood (@AlbertThurgood) June 21, 2020
(19) Tayte Pears
Pears played 70 games for the Bombers from 2008 – 16.
He was a regular feature for Essendon in 2009 playing all 23 games but only played 42 more due to injury opting to retire as a result of the supplements scandal ban in 2016. 
Tayte Pears is an option to make a comeback for the Dons this week based purely on having an awesome name.  
There is one story from Saturday that we should celebrate: http://t.co/7vrelmTsfV. Welcome back @taytepears. pic.twitter.com/N2H7B9QYKh

— Essendon FC (@essendonfc) August 17, 2015
(20) Darcy Daniher 
While many Bomber fans await the return of Joe Danier, perhaps his older brother Darcy should get a call up this weekend?
Darcy played six games for the Bombers between 2008 – 2011 in an injury-plagued stint in the red and black.  
He retired to become a full-time Peter Siddle scoring a hat-trick on his birthday influencer on Twitter. 
(21) Damien Cupido 
Playing 53 games for the Lions and the Bombers, Damien Cupido was one of those classic "Coulda been anything" players.
He kicked 16 goals in his first seven games for Essendon including five on ANZAC Day 2003.
Lack of commitment and discipline was a major factor in Cupido's demise who was playing VFL reserves by 2005.
Perhaps the Dons can give him one more chance?  
Donthis 11Mar-1982 Enigmatic @Essendon_FC forward Damien Cupido was born. #ANZAC03 #ElimFinal03vFreo #DominatingInNT pic.twitter.com/WYSPc5lBrc

— DonThisDay (@DonThisDay) March 10, 2013
(23) Greg Anderson

Anderson played 103 games for the Bombers from 1988-92 before crossing over to the Crows.
A reliable wingman, the man had one of the all-time great mullets and provided he's still got business at the front and party at the back consider him a chance to play for Essendon this season.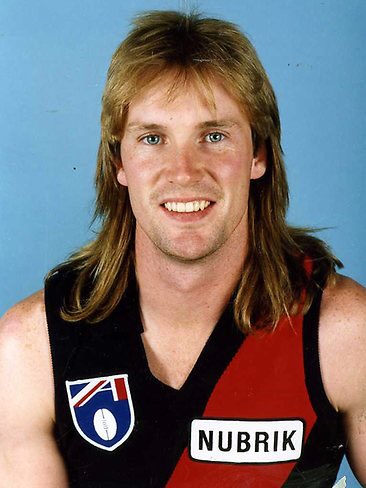 (24) Ariel Steinberg
Awesome name.
Solid man-bun.
Steinberg played 10 games for Essendon from 2011-15, the man is remembered for having one of the great names to ever appear on an AFL list. 
Now is the time to make a comeback! 
BREAKING: We are pleased to announce the signing of ex-Ess defender Ariel Steinberg!

STORY: https://t.co/20d3Fw7j4w pic.twitter.com/4pFcgFfG12

— Williamstown FC (@WilliamstownFC) December 7, 2015